Manual Tube Puller
This newly designed tool is used for extracting tubes from the tube sheet holes without damaging the tube sheet holes.
Available for tubes from 1/2″ to 1 1/2″ (12.7 mm to 38.1 mm) O.D.
Features
Easy to use
No external power necessary
Can be used with an impact wrench in combination with drive socket 01.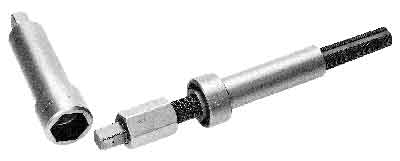 | | | | | | | | | |
| --- | --- | --- | --- | --- | --- | --- | --- | --- |
| Tube Size O.D. and GA | Model no. | Spear no. | Diameter small end | Diameter large end | Square on spear | Collar no. | Nut Hex 5/16″ | Socket Hex 1 5-16 Square 5/8″ |
| 1 2″-14-20 | MTP-1/2″-14-20 | MTPS-1/2″-14-20 | .315″ 8mm | .472″ 12mm | 5/8″ | MPC-1/2″ | MPN | MPS |
| 5/8″-11-14 | MTP-5/8″-11-14 | MTPS-5/8″-11-14 | .354″ 9mm | .512″ 13mm | 5/8″ | MPC-5/8″ | MPN | MPS |
| 5/8″-14-20 | MTP-5/8″-14-20 | MTPS-5/8″-14-20 | .453″ 11.5mm | .610″ 15.5mm | 5/8″ | MPC-5/8″ | MPN | MPS |
| 3/4″-10-13 | MTP-3/4″-10-13 | MTPS-5.8″-14-20 | .453″ 11.5 mm | .610″ 15.5mm | 5/8″ | MPC-3/4″ | MPN | MPS |
| 3/4″-14-20 | MTP-3/4–14-20 | MTPS 3/4″-14-20 | .571″ 14.5mm | .728″ 18.5mm | 5/8″ | MPC-3/4″ | MPN | MPS |
| 7 8″-14-19 | MTP-7/8″-14-19 | MTPS-7/8″-14-19 | .689″ 17.5mm | .846″ 21.5mm | 5/8″ | MPC-7/8″ | MPN | MPS |
| 1″-9-13 | MTP-1″-9-13 | MTPS-7/8″-14-19 | .689″ 17.5mm | .846″ 21.5mm | 5/8″ | MPC-1″ | MPN | MPS |
| 1″-14-20 | MTP-1–14-20 | MTPS-1″-14-20 | .823″ 20.9mm | .980″ 24.9mm | 5/8″ | MPC-1″ | MPN | MPS |
| 1″-17-24 | MTP-1″-17-24 | MTPS-1″.17-24 | .866″ 22mm | 1.024″ 26mm | 5/8″ | MPC-1″ | MPN | MPS |
| 1 1/8″-11-15 | MTP-1 1/8″-11-15 | MTPS-1″-17-24 | .866″ 22mm | 1.024″ 26mm | 5/8″ | MPC-1 1/8″ | MPN | MPS |
| 1 1-8″-15-23 L | MTP-1 1/8-15-23 | MTPS-1 1/8″-15-23 | .965″ 24.5mm | 1-122″ 28.5mm | 5/8″ | MPC-1 1/8″ | MPN | MPS |
| 11/4″.10-13 | MTP-1 1/4″-10-13 | MTPS-1 1/8″-15-23 | .965″ 24.5mm | 1.122″ 28.5mm | 5/8″ | MPC-1 1/4″ | MPN | MPS |
| 11/4″-14.19 | MTP-1 1/4″-14-19 | MTPS-1 1/4″-14-19 | 1.063″ 27mm | 1.220″ 31mm | 5/8″ | MPC-1 1/4″ | MPN | MPS |
| 1 1/ 2″-12-17 | MTP-1 1/2″-12-17 | MTPS-1 1/2″-12-17 | 1.268″ 32.2mm | 1.425″ 36.2mm | 5/8″ | MPC-1 1/2″ | MPN | MPS |